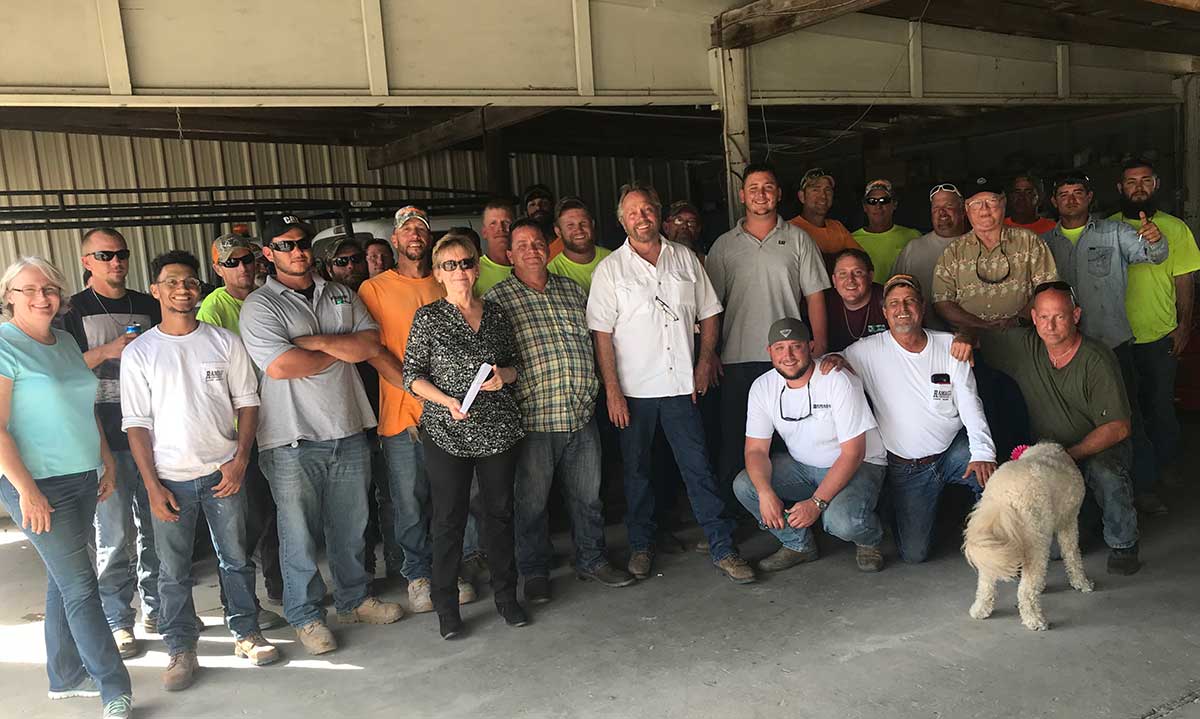 Ramage Contracting, Inc. was incorporated in the State of Florida in 1995 – Prior to that, David Ramage (President and Owner) was active in the sitework business since 1983, when he founded Ramage Excavating and Fill, Inc. The current company's name was selected to better describe the focus on "whole site" construction instead of simply satisfying a projects earthwork needs.
Ramage is a family owned and operated business with seven family members filling important roles.
Ramage has an impressive safety record and quality initiatives which serve us well on both Government and private sector projects.
David has also surrounded himself with capable professionals who bring decades of well rounded construction experience to the business.
Ramage Contracting, Inc. is bondable and routinely meets all necessary requirements for contracting with ENR 500 General Contractors and Construction Management firms.
Unlike many of our competitors who use primarily rented equipment, Ramage Contracting, Inc. strongly believes in ownership of our fleet of construction equipment. This allow us better control of the repair and maintenance functions so that we ensure that each and every piece of equipment used on a jobsite is ready to go and is therefore as efficient as possible.
ramage contracting is family owned and operated locally
David Ramage
President & Owner
Since the 1970's, David Ramage has been the preferred site contractor for many of the contractors and developers on the space coast. David has assembled an excellent staff and believes strongly in the wisdom of owning equipment instead of renting. This philosophy helped Ramage Contracting, Inc. survive the seven year downturn while many of our competitors fell out. David takes a hands on approach and is often the one directing efforts on Ramage Contracting's projects.
matthew ramage
Vice President
Matt was born into the industry and has an extensive background in underground utilities and earthwork. Matt holds an underground utility license as well as a state plumbing license. 
Maryellen Selbee
Office Manager
Maryellen is the glue that holds the office together. Maryellen oversees a busy office and is responsible for payroll and accounts payable processes, among others. Maryellen was the Executive Administrative Assistant for a space contractor VP for many years at KSC.
Cindy Ramage
Corporate Secretary
Cindy is always involved in general corporate direction and strategy, providing her perspective to David and the team.
Estimating Process &
technology
Ramage Contracting, Inc. uses various platforms for our estimating and pricing processes, including the following:
PlanSwift (takeoffs.)
Vista / ProContractor (pricing.)
Carlson (earthwork.)
In the field, Ramage is on the cutting edge of technology for sitework companies. Our field forces utilize these systems in conjunction with their field work:
PlanGrid (current plans and estimating takeoffs for all projects on an iPad.)
Foundation Timecard Mobile time reporting (on iPad.)
Extremely efficient TOPCON GPS machine control system, whereby Ramage's estimating department prepares a wire frame grid of finished surfaces, and when finished and loaded into the GPS system, satellites govern location and grade and the system communicates with grading equipment via Bluetooth technology.
Contact Us
Feel free to call us or come for a visit to our office / shop complex located in "Beautiful Downtown Mims!" - At any time!
To send a message, please complete the form below and we will respond back to your inquiry as soon as we can.
We're Ready to Work With You